The Ultimate Chocolate Cake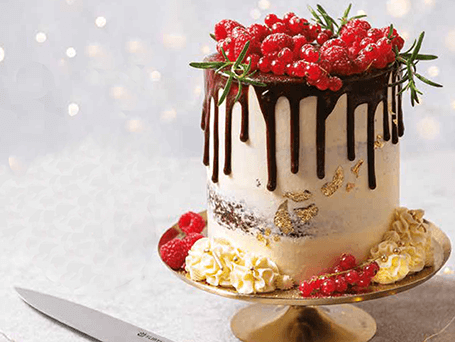 Ingredients –
Makes 1 x 6-inch four-layer cake
Sponge (amount per sponge)
113g unsalted butter
90g self raising flour
23g cocoa powder
1tsp baking powder
113g caster sugar
2 eggs
1tsp vanilla essence
Chocolate buttercream
250g unsalted butter
500g icing sugar
50g cocoa powder
100ml evaporated milk
White chocolate buttercream
250g unsalted butter
500g icing sugar
1tsp vanilla essence
200g white chocolate
Milk chocolate drip
100ml double cream
200g milk chocolate
Method
Preheat the oven to 180C. In an electric mixer, cream together the butter and sugar.
Add the vanilla essence and the eggs while the mixer is still on a low speed. Sift in the flour, cocoa powder and baking powder and mix well. Pour the mixture into your prepared tin. Repeat the above steps for the three other layers.
Bake in the oven for 40 minutes. At around 35 minutes insert a skewer into one of the cakes to see if it comes out clean.
Take the cakes out of the oven and leave to cool in their tins for at least 15 minutes.
For the buttercream: using an electric mixer beat the butter until smooth. Turn the mixer down to the lowest setting and add the icing sugar and cocoa powder a little at a time. Add the evaporated milk and whisk on a high setting until completely smooth.
Once the sponge is completely cool, spread or pipe the icing between each of the layers. Leave the stacked cake in the fridge for about 20 minutes to set while you prepare the white chocolate buttercream.
Whisk the butter until very soft. Slowly sift the icing sugar into the mixture.
Turn the mixer up to a high speed and whisk for 3 minutes until light in colour and texture.
Cut the white chocolate into small chunks. Place in a heatproof bowl over a pan of boiling water until smooth. Wait for the chocolate to cool before whipping it into the buttercream.
Spread the white chocolate buttercream onto the cake using a palette knife and smooth out using a plastic or metal cake scraper. Refrigerate the cake for 20 minutes.
While the cake is setting, cut the chocolate into small chunks and heat the cream in the microwave in small bursts. Once heated pour the cream over the chocolate and mix until smooth and thick.
Using a teaspoon hold it to the edge of the cake and let it drip down; continue all the way around. The chocolate will set quickly as it drips down because the cake is cold.
Decorate with seasonal red berries.
Find more recipes from Stortford Bakes at www.stortfordbakes.co.uk