FLINT & FLAME SHOWS AND EVENTS
VISIT US SOON AT ONE OF THE HUNDREDS OF EVENTS AND SHOWS THAT WE ATTEND ACROSS THE UK EVERY YEAR
Flint & Flame demonstrate at hundreds of events across the country ranging from Grand Designs to BBC Goodfood and from Dorset County Fair to the South Yorkshire Game Fair.
You can find details of our appearances at upcoming shows here.
We also run in-store demonstrations with our national partners such In-Toto kitchens – you can find details of these here.
For more information on shows and events you can call us on 01403 740 230, email info@flintandflame.co.uk or use the form on our Contact page.
Why not drop us an email if you're coming to an event – sometimes we have free tickets from the organisers to give away. You might be lucky!
"Thanks to all the Flint & Flame team for the Grand Designs Live tickets, great day – we both really enjoyed it. The F&F stand, as always, looked great with really friendly chefs manning it."
Nic Townsend
MEET MONICA GALETTI
Flint and flame are rolling out some key dates where you will have a chance to meet Monica Galetti, and taste the food prepared in a cook off between Monica and Steven Edwards.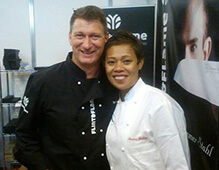 This will be a fun evening but numbers are limited, so if you are interested please reserve your place as it will be on a first come bases.
Venue :- South Lodge
Day :- TBC
Time: 7.00pm
Price : £250 (early bird special 2 for the price of 1)