How to Order

Corporate Engraving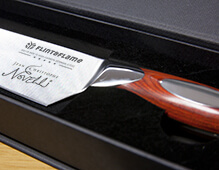 Whether for customers, employees or maybe even as a corporate award, our knife engraving offers you an opportunity to add your branding to a high quality product.
If you wish to add your logo or a corporate message to a knife or set of knives, please call us on 01403 740 230 to discuss your requirements.
Personal Engraving
Whether for yourself or as a gift, adding a name and/or personal message is the perfect finishing touch to a Flint & Flame knife.
You can now add your personalisation through our online shop. Simply follow the steps below:
Find the Flint & Flame product you wish to engrave within our shop.
On the product page you will see the 'Engraving Options' section. There are 3 areas on a knife where can add your personalisation (as shown on the image below).

Type in the message you wish to have engraved on the knife in the relevant boxes (you can fill in just one, two or all three – whatever you prefer).
Select your font from the dropdown menu.
Return to the top of the page and click 'Add to Basket.'
Go through to checkout and complete your order, we'll do the rest!
If you have any questions or would like to discuss anything please call us on 01403 740 230.
Font options
Times New Roman Italic Uppercase                          

Times New Roman Italic                                            

Embassy BT Uppercase                                           

Embassy BT Titlecase                                              

Monotype Corsiva Uppercase                                  

Monotype Corsiva Titlecase