Sea-Salt Baked Norwegian Fjord Trout, Chicory & Blood Orange Salad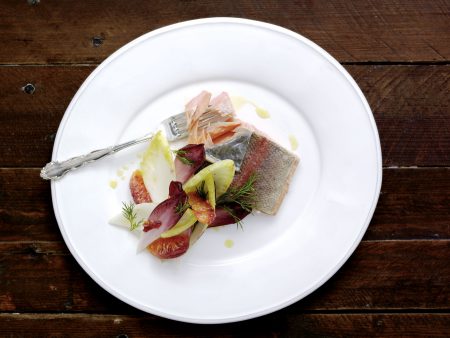 This is a lovely fresh recipe, balanced with chicory and blood orange. Bring theatre to your tables by serving the salt-baked fish straight from the oven and allowing diners to crack open the salt for themselves!
Ingredients (Serves 4)
4 x 140g Fjord Trout fillets, skin on
2 egg whites
½ lime juice and zest
½ blood orange juice and zest
1.8kg rock sea salt
greaseproof paper
2 heads yellow chicory
2 heads of red chicory
2 blood oranges
dill
olive oil
balsamic glaze
Method
Whisk egg whites to soft peaks and combine the rest of the ingredients.
Line an ovenproof tray with greaseproof paper and spoon ¼ of the salt mixture over the bottom. Place the Fjord Trout fillets on top of this mixture and then cover with the rest of the salt mixture.
Bake in the oven at 190oC for 6/8 minutes.
Cut the base off the chicory and remove outer leaves, slice in half lengthways and remove core. Keep the two types separate.
Take one of the blood oranges and segment.
Make up a simple dressing using blood orange juice and zest, chopped dill, olive oil and balsamic glaze.
Mix the chicory leaves with segments from one orange and toss in the dressing.
To serve: Simply break the salt crust off the top and remove the skin. Serve with plenty of chicory and orange salad.
Ambassador Daniel Galmiche's Tips
Be aware of timings when baking as an individual portion as the heat will remain strong for a while, so remove from oven a touch earlier than you think.
Present to diners before braking the hardened salt crust so they can enjoy the theatre and aromatic scents released upon opening.
Wine Match
Bordeaux Blanc, Château l'Estrille-Capmartin, Bordeaux, France, 2012 (Hallgarten & Druitt)
A small, family owned estate producing fantastic wines. Made from Sauvignon (Blanc and Gris) and Sémillon, the wine offers youthful aromas of pink grapefruit and boxwood on the nose. The palate is full, slightly floral with a lively acidity and notes of golden apple, yellow pear and a touch of stone fruit followed by a great minerality.