Butter-Fried Skrei with Broccoli and Hazelnuts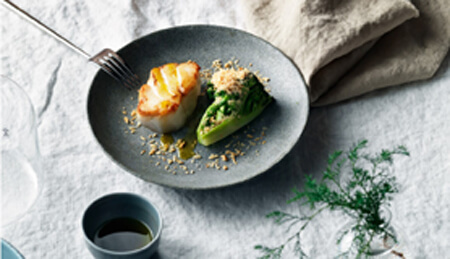 Ingredients (Serves 4)
600g Skrei fillets, skin off
2 litres brine (10%)
2 tbsp cooking oil
100 ml hazelnuts, peeled
1 head of broccoli
6 tbsp butter
4 tbsp fir oil (see tip below)
1-2 tsp lemon juice
Method
Clean the Skrei fillets and place in brining liquid for 30 minutes, lift out and rinse carefully. Pat dry and store in fridge until ready to cook (this can be done the day before).
Toast the hazelnuts in a dry frying pan and chop coarsely.
Fir Oil: Mix 100ml pine needles with 200ml oil and filter through a coffee filter paper. If you have no pine needles handy, rapeseed oil is fine.
Cut the broccoli in four and boil in well-salted water for 4 minutes until soft. Keep warm.
Fry the Skrei in 2 tbsp oil. After 1 minute, add 2 tbsp butter and continue to cook for 2 minutes, turn the fish and cook another 3 minutes. Cover the pan with a lid, pull from heat and rest for 6 minutes. Time will vary depending on the thickness, but white fish is perfect at 38°C, so don't be afraid to undercook it.
Brown the remaining butter, mix with the fir oil and season with salt and lemon juice.
Serve the Skrei with broccoli in four bowls and garnish with the nuts and browned butter.