Seared Steak with Artichoke Salad by Monica Galetti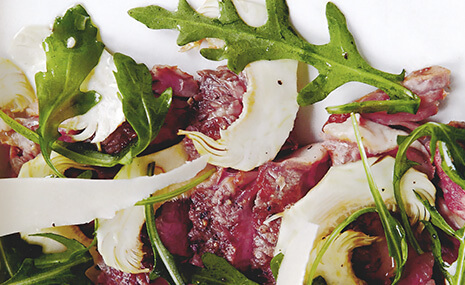 Serves 4
Ingredients
4 rib-eye or sirloin steaks, about 180g each
Sea salt and freshly ground pepper
Salad
2 large or 4 baby artichokes
1/1/2 lemons
4 tbsp extra virgin olive oil
To finish
20g parmesan
Preparation
First prepare the artichokes, one at a time. Pull off the outer leaves, then using a small paring knife, cut off the stem and cut away the thick outer skin to reach the heart. Use a teaspoon to carefully scrape out the hairy choke in the middle. Immediately immerse the artichoke heart in a small bowl of water with the lemon half added to prevent it discolouring. Repeat with the rest.
For the dressing, in a large bowl, whisk the juice of the remaining lemon with the extra virgin olive oil and season with salt and pepper to taste.
Heat a griddle or large frying pan over a high heat until very hot. Season the steaks with salt and pepper and add to the pan. Cook for 1 minute, then turn and cook on the other side for 1 minute. Remove to a warm plate and set aside to rest in a warm place for about 5 minutes while you prepare the salad.
Using a mandolin or swivel vegetable peeler, cut the prepared artichokes into very thin slices. Add to the dressing and toss well. Add the rocket leaves and toss through.
Slice the steaks and arrange on warmed plates. Top with the artichoke and rocket salad. Using a swivel vegetable peeler, shave the Parmesan over the salad to finish. Serve at once.