Rhubarb Tarte Fine by Monica Galetti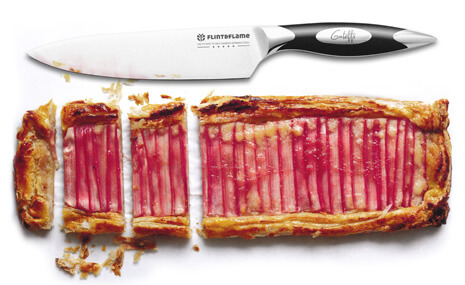 Serves 4
Ingredients
1 ready-rolled puff pastry sheet (35 x 25cm)
Plain flour for dusting
3 sticks of rhubarb (ideally forced)
1 medium egg yolk
1-2 tsp demerara sugar
Syrup
100ml water
100g caster sugar
1 vanilla pod, split and seeds scraped
Rhubarb trimmings (from above)
Almond Cream
60g butter, softened
60g caster sugar
60g ground almonds
1 medium egg, beaten
To Serve
Ginger ice cream or cream
Preparation
Heat the oven to 220°C/Gas 7. On a lightly floured surface, roll out the sheet of puff pastry slightly, then cut a rectangle, 34 x 16cm. Prick all over with a fork. Place in the fridge to rest while you prepare the almond cream, rhubarb and syrup.
For the almond cream, whisk the butter and sugar together in a bowl until creamy. Stir in the ground almonds, then the egg, to form a smooth paste. Cover and place in the fridge for 10 minutes to firm slightly.
Cut the rhubarb into strips, about 12cm long and 3mm thick. For the syrup, put the water and sugar into a saucepan with the vanilla seeds and slowly bring to the boil. Add any trimmings from the rhubarb, remove from the heat and set aside to infuse and cool.
Spread a thin layer of almond cream over the pastry, about 5mm thick, leaving a 2cm clear margin around the edges. Arrange the rhubarb batons over the almond cream, overlapping them to cover it completely and pressing down lightly. Fold up the edges of the pastry to form a rim.
Brush the rhubarb with a little of the strained syrup and sprinkle evenly with demerara sugar. Bake for 15-20 minutes until the pastry is golden brown and crisp on the bottom of the tart.
Brush the rhubarb with a little more of the syrup. Serve warm with a scoop of ginger ice cream or trickle of cream. Drizzle more vanilla syrup over the ice cream.