Mediterranean Puff Tart by Monica Galetti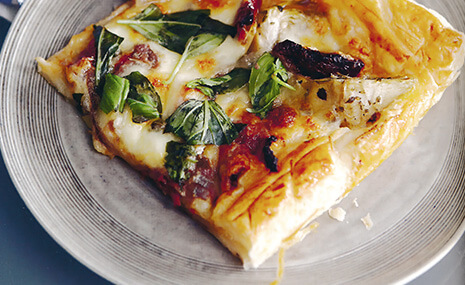 Serves 4
Ingredients
1 ready rolled puff pastry sheet (35 x 25cm)
10 cooked baby artichokes in oil, drained and quartered
10 sun-dried tomatoes, halved
2 tsp capers
1 large ball of mozzarella (150g)
8 anchovy fillets in oil, drained
1 medium egg yolk, lightly beaten
Freshly ground black pepper
Handful of basil leaves
Preparation
Heat the oven to 190°C/Gas 5. Lay the puff pastry sheet on a baking tray lined with baking parchment. Using the blunt edge of a knife, mark a 2cm border around the edge without cutting right through the pastry.
Scatter the artichoke wedges, sun-dried tomatoes and capers randomly over the pastry, leaving the border clear. Tear the mozzarella into pieces and distribute evenly over the tart. Chop each anchovy fillet in half or into thirds (as they can be quite strong) and sprinkle over the tart. Grind over some pepper.
Brush the pastry border with the beaten egg yolk. Bake in the oven for 15-17 minutes until the pastry rim is risen and golden brown and the base is crisp. Roughly tear the basil leaves and scatter over the tart. Serve hot, with a rocket salad.