Spring Chicken with Lemon, Honey and Cardamom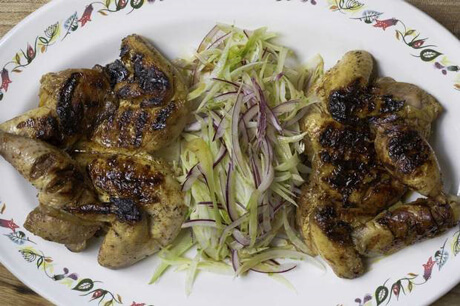 Spring chickens or poussin are perfect barbecuing material and pretty easy to find at good butchers and supermarkets.
Ingredients (Serves 4)
4 spring chickens, prepared as above
The juice and grated zest of 3 lemons
4tbsp olive or corn oil
The black seeds from 30 cardamom pods
Sea salt and coarsely ground black pepper
100-120g clear honey
Method
To prepare them for barbecuing, you need to cut through the back bone with a heavy chopping knife and score the legs a few times down to the bone, so the heat gets through and they cook evenly.
Then, a few hours before you barbecue, put the chicken in a non-reactive tray with the lemon, oil, cardamom and seasoning.
Turn every half an hour or so until your barbecue is lit and you are ready to go.
Cook the chickens on a medium heat for about 10-12 minutes on each side, spooning or brushing some honey on top every so often. Keep an eye out for burning, and move them to a cooler part of the barbecue if necessary.
Serving
Serve with salad of your choice. I've used red onion and fennel.