Christmas Mess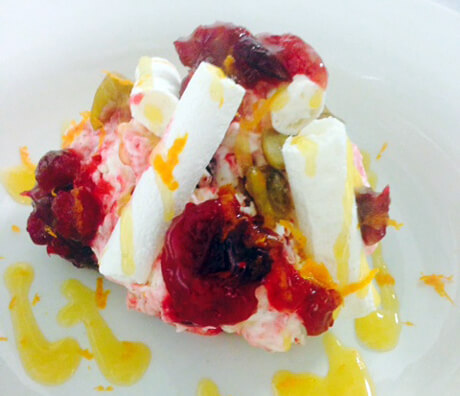 Ingredients (Serves 8)
40-50 fresh or vacuum packed chestnuts
2tbsp icing sugar
500ml double cream
80g caster sugar
150-200g meringue
For the cranberry sauce
200g fresh cranberries
90g sugar
1 small cinnamon stick
Juice 1 orange
Method
Preheat the oven to 200°C/gas mark 6. If using fresh chestnuts, make an incision on top of each with a small sharp knife and place them on a baking tray. Bake in the oven for about 20 minutes, then remove and leave to cool.
Meanwhile, for the sauce, put the cranberries, sugar, cinnamon and orange juice into a heavy-based saucepan. Stir over a low heat until the sugar has dissolved, then simmer gently for about 20-25 minutes until the cranberries have softened. Discard the cinnamon. Taste the sauce and add a little more sugar if necessary. Leave to cool.

Peel the chestnuts, removing as much of the brown skin as you possibly can. Place the cooked or vacuum packed nuts on a foil lined baking tray and dust with icing sugar. Bake in the oven for 20 minutes, turning them every so often. Remove and set aside to cool.

Whip the cream and caster sugar together in a bowl until very thick, using an electric whisk if you wish.
Serving
To assemble, break the meringue into pieces and fold into the cream with abut two thirds of the cold cranberry sauce and two thirds of the chestnuts. Pile onto the centre of individual serving plates. Scatter the remaining chestnuts on top and spoon the rest of the cranberry sauce over. Serve at once.