Teryaki Chicken by Hugh McGivern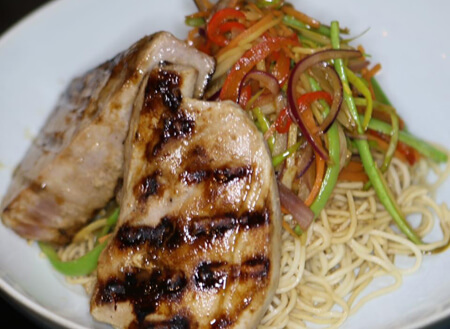 Ingredients
125g chicken breast
40g medium egg noodles
20g carrot
20g green pepper
1 large spring onion
2 cloves of garlic
1/2 red chilli
1cm piece of ginger
50ml of each – soy sauce, white wine vinegar & rice wine
50g light brown sugar
1/2 tsp sesame oil with 1 tsp veg oil (mixed)
Salt & pepper
Method
Soak Noodles in a bowl with boiling water for 15 mins.
Heat oven to 180°C
Heat griddle, season chicken and season, then grill for 3 mins on each side then place in oven.
Put the sugar, crushed garlic and ginger along with the chilli in a pan with the 3 liquids, bring to the boil and simmer for 10 mins.
Cut all the veg into long strips and stir fry in a hot wok with the remainder of the oil, add the noodles.
Place the noodles and veg in a bowl, top with the chicken breast and drizzle with some of the teriyaki sauce.