Fillet Steak with Chunky Homemade Chips and Beetroot Salad by Iain Robertson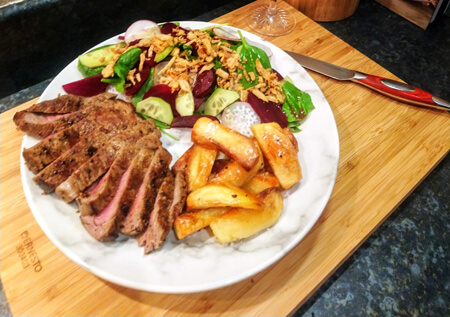 Ingredients (Serves 2)
Maris Piper potatoes 300g
Fry light
Fillet steak 6oz (2)
Olive oil
Butchers salt – (course ground sea salt with peppercorn and shallot)
Garlic cloves (2)
Baby spinach leaf
Kale
Whole baby beetroot (2)
Small pickled onions
Radish (2)
1/4 cucumber
Crispy onions
Balsamic dressing
Method
Peel and cut the potatoes into chunky chips.
Place into salted boiling water for 6-7 minutes.
Drain and allow to dry.
Spread the chips evenly over a hot baking tray.
Spray with fry light and place in the middle of a hot oven 200°c fan for approx 35 minutes.
Turn and re spray halfway through.
When ready sprinkle with flaked sea salt and place onto plate.
Wash and place some baby spinach leaves and kale onto a plate.
Cut the skin off the cucumber and cut into slices.
Cut your radish into thin slices.
Half and slice the baby beetroot.
Place the radish, beetroot and cucumber slices onto the salad leaves.
Drizzle with balsamic dressing and sprinkle with crispy onions.
When cooking your steaks allow to rest at room temp for 30 minutes before cooking.
Rub the steak in oil, butchers salt and crushed garlic just before cooking.
Place onto a hot pan cook for 3 and a half minutes each side for medium.
Remove from heat and allow meat to rest.
Once ready, slice and place onto plate.