Aubergine Lasagne by Rebecca Aldridge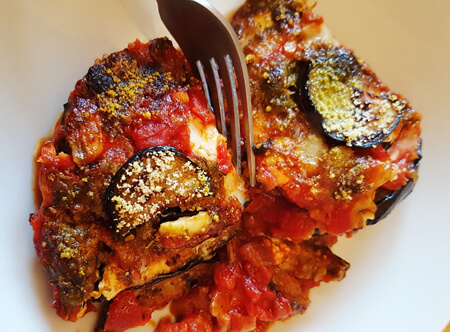 Ingredients
2 cans chopped tomatoes
2 onions
4 garlic cloves
Pesto
Pine nuts
2 aubergines
Goats cheese (1 hard, 1 soft)
Grated Parmesan
Method
Heat oven to 200 degrees.
Chop the onion and garlic, slowly cook in a saucepan for 5 mins.
Add the chopped tomatoes and simmer until some of the liquid has evaporated.
Mix in pesto to taste.
Heat up the pine nuts in a dry pan until golden.
Slice the aubergine into 1/2cm thick slices.
Fry with spray oil in a pan for 2 minutes on each side (until the flesh starts to go soft).
Cut up the goats cheese into thin slices.
Layer tomatoes, aubergine, goats cheese and pine nuts into a large lasagne dish. Repeat until full.
Put in oven for 30-40mins.
Leave to stand for 5 mins before serving.