German Steel + British Design = Precision. Balance. Control
Posted on Tuesday, October 13th, 2015
All Stainless Steel is the same, right? Well, not quite…
If you've ever looked closely at the blades of your Flint & Flame knives you'll have noticed this group of numbers and characters just below the Flint & Flame logo…

Today, I want to take you on a journey behind the scenes … to explain exactly what this strange looking group of numbers actually means.
And to explain why they are so important to the enjoyment and performance of your Flint & Flame knives.
To do that, I'm going to use the Browning Blade Steel Index which, compares different steel types.
The Browning Blade Steel Index describes X50 CR MOV 15 steel as…
"A high quality cutlery German stainless made with carbon, chromium and molybdenum to provide excellent sharpenablity and good corrosion resistance."
Quite an endorsement!
And hard earned too, as the Browning Steel Index rates different grades of steel for three different attributes…
•  Edge Retention / Hardness
•  Corrosion Resistance
•  Sharpenability
You can see the results in this table… (click to enlarge)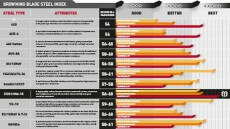 As the table shows, when the two attributes of hardness and sharpenability are taken together your Flint & Flame knife outperforms all other steel types in the index by some margin, giving you the perfect balance between edge retention and sharpenabilty.
In addition, you'll see from the table that the steel used for your Flint & Flame knives is one of the best when it comes to corrosion resistance.
X50 CR MOV 15 – Graded 'Best'
Across all three attributes, no other steel comes close to matching the all-round performance of X50 CR MOV 15. It is the only steel in the Browning Index that has a 'Best" grading for all three attributes.
Which, is another reason why Flint & Flame knives are so popular with leading chefs and cooks alike.
And remember, a great knife is about much more than the blade alone.
With a Flint & Flame knife, it's the unique combination of the German steel, ZPP (Zero Pressure Points) and CPB (Centre Point Balance) technology, ergonomic handle, the razor sharp blade and heel all coming together in one beautiful knife that makes it such a pleasure to cook with.
Remove any of these features and you end up with a knife that is compromised – add them all into one knife and you have a knife that is a joy to use!
You can see the 7 Great Reasons to Choose Flint & Flame here.

"Flint & Flame produce some of the best knives that I have had the fortune to use both professionally and in my personal kitchen. Their unique styling and high quality steel reflects the impeccable standards that I insist on in my Novelli Academy, backed up by a life-time guarantee. What more can you ask for?"
Jean-Christophe Novelli
Keep on enjoying your Flint & Flame knives.