PINK Salt! HEALTHY Salt? What next…
Posted on Thursday, April 16th, 2015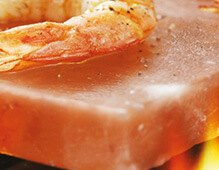 You might have noticed the stunning Himalayan Salt Blocks on our website, and you've almost certainly noticed Himalayan Salt appearing in kitchens, supermarkets and on tables everywhere in recent years.
You can now even buy Jamie Oliver Himalayan Salt in supermarkets such as Sainsbury's.
The first thing you'll notice about Himalayan Salt is the striking colour – it really is pink! The second thing is its beautiful texture – veins of white, pink, orange and deep crimson run through slabs of Himalayan Salt.
Whilst there are lots of claims about the health benefits of Himalayan Salt, the reason we love it is because of the sensational flavour that it imparts on food. This is well known when it is used to grind and sprinkle onto salads, vegetables and meat.
What is less well known (but is becoming increasingly so) is the remarkable ways that Himalayan Salt can be used to prepare, cook and serve food. This is done with thick slabs of Himalayan Salt – Himalayan Salt Blocks.
Preparing Food with Himalayan Salt Blocks
Himalayan Salt Blocks make for a fantastic cutting board for salads and vegetables. Once you've tasted tomato sliced on a Salt Block you'll never go back.
And because the salt naturally has antiseptic and antibacterial properties, all you need to do after using it as a cutting board is to simply wipe the salt off with a moist towel and allow to dry before re-using. No additional cleaning is required.
The best thing is, when your Salt Block cutting board eventually wears out, you can break it up and use it in your salt grinder!
Cooking with Himalayan Salt Blocks
Cooking with a Salt Block is a blast! Whether you're cooking steaks, prawns, scallops or whatever you fancy – the super tasty salt ramps up the flavour to "mouth-watering". You can use it to cook with electric, gas or even with your BBQ.
Before you use a Salt Block for cooking it will need to be tempered. You can find a full set of instructions here.
Serving with Himalayan Salt Blocks
Salt Blocks have amazing thermal properties which means they stay cold (or hot) for much longer than many other materials (such as glass). This means that you can chill or freeze them to create some amazing serving options – such as for serving chilled fruits or vegetables.
We even found this recipe for Parmesan Ice Cream created with a frozen Salt Block from Salt Selmelier and author Mark Bitterman.
What is Himalayan Salt?
Himalayan Salt is crystal salt that has been deposited in the earth for more than 250 million years in areas that used to be sea beds in the foothills of the Himalayas. This crystal form of salt has been maturing under intense tectonic pressure, creating an environment of zero exposure to toxins and impurities.
Delicious tasting and rich in minerals, Himalayan salt is among the purest forms of salt in the world. The salt is traditionally mined, reaching depths of 700 – 1100 metres. These conditions provide a pure, natural and unprocessed product.
The Healthier Salt Choice
The health benefits of Himalayan Salt help balance the highly complex water and salt metabolism within our body.
Free of bleaches, preservatives and chemical additives, it has more than 84 minerals and trace elements essential for good health, including 1.2% sulphur, .4% calcium, .35% potassium and .16% magnesium.
This high quantity of trace minerals causes the salt to impart a milder, yet fuller salt taste to foods which adds a whole new level of delicious flavour to any dish!
Himalayan Salt Blocks are even being used to create "salt caves" to age award winning meat by this Irish speciality butcher. You can see Chef Mark Hix discussing this amazing meat here.
To healthier, more nutritious cooking and eating!
You can buy our amazing Himalayan Salt Slabs and Blocks from our online shop.
Filed under: HIMALAYAN SALT BLOCK, Related Products
Tagged with: CHEF MARK HIX, CRYSTAL SALT, CUTTING BOARDS, Healthier Salt Choice, HIMALAYAN SALT, HIMALAYAN SALT BLOCKS, HIMALAYAN SALT SLABS, HIMALAYAS, JAMIE OLIVER HIMALAYAN SALT, MARK BITTERMAN, PARMESAN ICE CREAM, SAINSBURYS, SALT CAVES, SALT SELMILIER, STRIKING COLOUR