Chocolate & Strawberry Crème Pâtissière Tart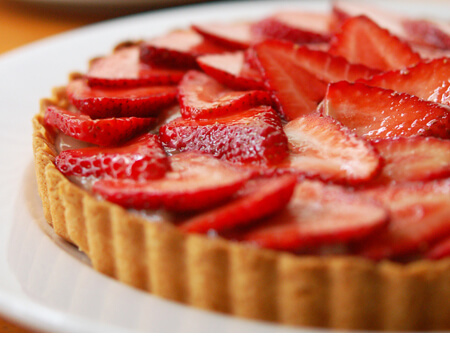 Ingredients
For the Pastry
150g plain flour
80g unsalted butter
1 tsp. vanilla bean paste
1 egg yolk
3 tbsp. cold water
For the Crème Pat
250ml milk
50g dark chocolate, melted
3 medium egg yolks
1 tsp Vanilla paste
45g caster sugar
15g cocoa powder
15g cornflour, plus extra if needed
50g white chocolate shavings/curls
Punnet fresh strawberries
Method – Pastry
Rub together the flour, sugar, vanilla and butter to resemble fine bread crumbs
Mix in the egg yolk and water and bind together gently to form a dough. Do not knead.
Wrap in cling film and chill for at least 30 minutes
Take the pastry out of the fridge, allow to rest at room temp for about 10 minutes and roll out.
Pre-heat the oven at 180 fan.
Cut circles large enough to fill the bottom of the pastry.
Cut strips long enough to go around the inside and neatly line the sides of the ring tins with the pastry. Press the strips to stick to the bottom round pastry and trim off any excess on top.
Place the pastry rings on a baking tray lined with parchment paper and fill with baking beans or rice.
Bake in the oven for 20-25 minutes. Removes the baking beans and bake for a further 10 minutes to dry the pastry cases.
Once baked, allow to cool.
When ready, fill the cases with the pastry cream to about ¾ up. Top with fresh strawberries and grated white chocolate.
Method – Crème Pat
In a small saucepan, bring to soft boil the milk and vanilla paste.
Melt the chocolate and mix in the milk.
In a separate bowl, whisk at high speed, the yolks, sugar, cocoa and cornflour.
Add a third of the warm milk and continue to mix until fully incorporated.
Add the remaining milk and mix. Bring the pan back to soft boil making sure you are continuously stirring.
Take off the heat and pour in a glass bowl and cover with cling film to avoid skin forming.
Chill and allow to set before us. Whisk lightly when ready to use.
Top tip: Omit the chocolate for vanilla pastry cream.