Rump of Aged Dexter Beef, Truffled Baked Potato & Red Wine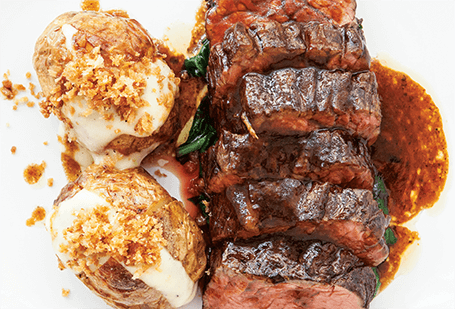 Ingredients (Serves 2)
2 x 250g rump steaks
3 tbsp vegetable or sunflower oil
Sea salt flakes
Freshly ground black pepper
2 garlic cloves, peeled and finely chopped
1 sprig thyme, leaves removed (stalks discarded)
100g butter
For the sauce
3 shallots, sliced
6 button mushrooms, sliced
2 garlic cloves, peeled and crushed
3 sprigs thyme
2 bay leaves
Freshly ground black pepper
150ml port
450ml red wine
500ml veal stock
250ml chicken stock
For the potatoes
4 medium Charlotte potatoes
100g salted butter
2 drops truffle oil
1 small fresh black truffle (Although these are quite difficult to get hold of, you can find them online fresh and in a jar. Otherwise, you can leave it out of the recipe.)
300g spinach leaves
Method
Preheat the oven to 200°C/fan180°/gas mark 6. Wash and dry the potatoes, drizzle with oil and season with salt and pepper, then roast, turning once, until golden and crispy on the outside and soft and fluffy on the inside. About 35-40 mins.
For the sauce, slice fry the sliced shallots and mushrooms in a wide saucepan in a little oil on a medium high heat until golden brown. Then add the garlic and a pinch of salt and continue frying until golden.
Add the herbs and 1 tsp of fresh coarse ground black pepper. Add the port and deglaze (i.e. scraping all the cooking bits from the bottom of the pan) and reduce the volume by four-fifths. Repeat this process with the red wine. Add your stocks and reduce until dark and shiny, then sieve into a heatproof bowl.
To prepare the truffle butter, simply soften the butter to room temperature and mix through plenty of freshly grated black truffle (if using), a dash of truffle oil and season if required. You can roll this into a sausage in clingfilm then slice or leave at room temperature and spoon over.
Heat a frying pan to high and add enough vegetable or sunflower oil to coat the bottom of the pan. Season the steaks generously with salt and pepper. Cook to your desired degree. For a 2 cm thick piece of steak, cook 2-3 mins each side for rare; 4 mins each side for medium; 5-6 mins each side for well done.
To finish, add the butter, a generous seasoning of salt, the garlic and thyme to the pan. Baste the steak in the foaming butter for about 30 seconds. Removing the steaks to rest for 5 mins while you wilt your spinach with a little butter and salt in the same pan.
To serve, put the spinach onto two warmed

plates. Carve the steaks, and put on top of

the spinach. Cut the potatoes in a criss-cross

at the top and put next to the steak. Top the

potato with the truffle butter. Pour the resting

juices from the steak into the sauce and spoon a good amount over the steak.