Chipotle Prawn, Smoked Salmon, Lime and Coriander Fishcakes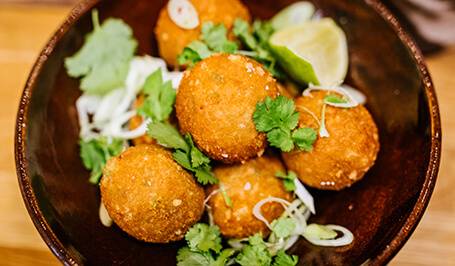 Ingredients (Serves 2)
100g Shelled Cooked Prawns
50g Smoked Salmon
300g Dry Mash Potato
4 x Spring Onions
15g Fresh Coriander
1 x Lime Zest
2 Tsp Chipotle Paste
Salt
For the Coating
100ml Milk
2 Eggs
150g Panko Breadcrumbs
100g Plain Flour
For the Chipotle Mayonnaise
100g Mayo
2 Tsp Chipotle Paste
1/2 Lime Juice
Salt
Method
Roughly chop the prawns and smoked salmon and add to the mash.
Finely chop the spring onion and coriander and add to the mix.
Zest in 1 lime, add the chipotle paste and salt to taste.
Allow mixture to rest for 30 mins in the fridge. Remove and form balls – roughly 50g.
Put back in the fridge or freezer to set up again for a further 30 minutes.
Mix the egg and the milk together and in 2 more separate bowls add the flour to one and the breadcrumbs to another.
Add the fishcakes to the flour first and roll around until well coated, then add to the egg and milk mixture until we drenched, then into the breadcrumbs.
Once all are coated you can fry the fish cakes at 160 for around 4 minutes until golden and crispy.
For the mayonnaise combine all ingredients together.
Serve alongside some chipotle mayonnaise and fresh lime wedges.