Char Siu Pork by Jonathan Phang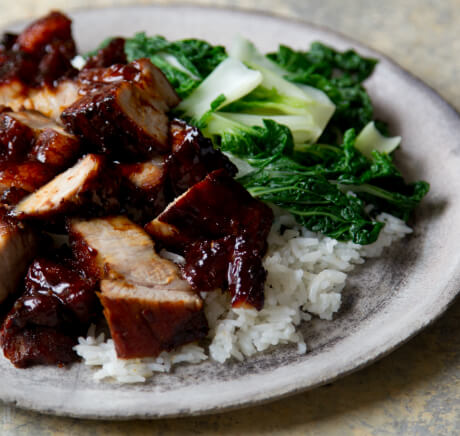 Ingredients
700g Pork Belly (skin removed) or Tenderloin Strips
2 teaspoons of Five-Spice Powder
4 tablespoons of Runny Honey
2 chunks of Fermented Bean Curd
2 Garlic Cloves (crushed)
1 teaspoon of Garlic Powder
3 tablespoons of Rice Wine or Sherry
2 tablespoons of Hoisin Sauce
1 tablespoon of Dark Soy Sauce
2 teaspoons of Sweet Chilli Sauce or West Indian Pepper Sauce
Salt and Freshly Ground Pepper
Method
To marinate the pork, cut it into 5cm (2in) wide strips. Rub the strips all over with the five spice and season generously with salt and pepper.
Put all the remaining ingredients into a bowl and mix together until smooth. Pour this over the pork, then cover and leave to marinate in the refrigerator for at least 2 hours, but preferably overnight.
When you are ready to cook, preheat the oven to 160 degrees. Transfer the pork to a baking tray and cook in the oven for one hour, until tender.
To finish off, preheat the grill to hot and grill the pork strips for a couple of minutes on each side until they are crisp and caramelised.
Rest the meat for ten minutes on a warm plate, slice on the diagonal and serve with steamed rice and greens.