Hot Pork Pie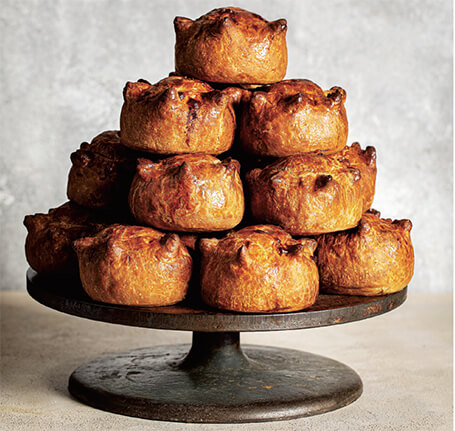 Ingredients (Serves 4)
800g hot water crust pastry
Plain flour, for dusting
2 egg yolks, beaten with
1 tsp water, for brushing
For the filling
500g pork shoulder, half minced and half roughly chopped
120g smoked streaky bacon, roughly chopped
100g lardo, cut into 1cm dice
1 tsp fennel seeds
1 tsp yellow mustard seeds
1½ tsp fine table salt
30g sage, leaves picked and finely chopped
A few good twists of freshly ground black pepper
You will need
7.5cm diameter pie dolly

Digital probe thermometer
Method
Line a baking tray with parchment paper. Weigh out the pastry dough into four balls weighing 150g and four smaller balls weighing 40g.
On a lightly floured surface, flatten the 40g dough balls and roll out into circles 5mm thick. Lay the circles on the lined baking tray and chill in the refrigerator until needed.
Combine all the ingredients for the filling in a mixing bowl. Using your hands, work everything well for a few minutes until the mixture holds together. Split the mixture evenly into four balls and set aside.
Take one of the 150g dough balls and gently flatten it out into a circle until it is slightly wider than the pie dolly. Dust the pie dolly well with flour, centre it on top of the dough circle and then firmly press it down into the dough. The dough will rise up the sides of the dolly and puff out like an inflatable swimming ring.
Lift the dolly out of the dough and dust it with more flour. Return the dolly to the centre of the dough and, cupping the edges of the dough in your hands, squeeze it up the dolly while at the same time turning and also pushing down on the dolly. Imagine a pottery wheel as you turn and squeeze, keeping the pastry as tight to the dolly as possible.
Periodically, pause to lift out the dolly and dust with more flour to prevent the pastry from sticking to it. Keep working the dough in this way until the wall of the pastry case is about 7-8cm in height and the base is 5mm thick.
Carefully remove the dolly from the pastry case and pack it with one of the balls of pork meat filling.
Repeat with the remaining 150g balls of dough until you have four pie cases filled with the pork meat filling. There should be a slight excess of pastry at the top of each case, so gently curl that outwards to form a collar.
Preheat the oven to 210°C/fan 190°C/gas mark 6½.Take the pastry lids out of the refrigerator. Wet the pie collars with a little water and lay the lids on top. To join, firmly press the collars and lids together. Crimp the edges into the middle and then transfer the pies back onto the lined baking tray.
Using a skewer or the tip of a knife, make a small hole in the top of each pie to allow the steam to escape. Avoiding the base, brush the wall and lid of each pie with the egg wash and return the pies to the lined baking tray.
Place the tray in the preheated oven and bake for 35 mins or until the core temperature reads 70°C on the thermometer. Remove the pies from the oven and leave to rest for 10 mins before serving with mash and gravy.