Milk Chocolate Tart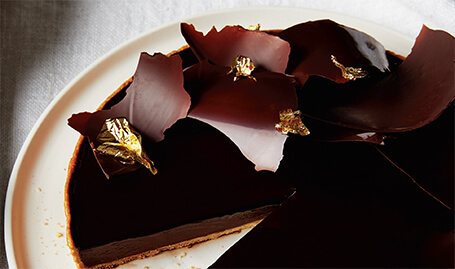 Ingredients (Serves 6-8)
For the sweet pastry
140g icing sugar
45g ground almonds
3g salt
200g butter
68g egg yolk, at room temperature
80g bread flour, sifted
250g bread flour, sifted
For the chocolate tart
450g milk chocolate (minimum 36% cocoa solids)
225g whipping cream
40g butter
For the cocoa glaze
50g cocoa powder, sifted
120g water
150g sugar
85g whipping cream
10g gelatine leaf, soaked
Method
Beat the icing sugar, almonds, salt and butter together in a large bowl until white. Slowly add the egg yolks. Slowly add  the first batch of sifted flour (80g) in stages. Once combined, add the second batch of flour (250g) in two stages and bring together. Rest the mix for an hour in the fridge.
Take an 8-inch tart ring and grease with a very small amount of vegetable oil. Roll the pastry to a 5mm thickness and line the ring, ensuring all the sides are straight. Chill for 20 mins in the fridge and trim the top of the ring flat with a sharp knife.
Line the tart base with clingfilm and baking beans, blind baking the tart for 15 mins in the oven at 165°C/fan140°/gas mark 3. After 15 mins, remove the clingfilm and beans and bake the tart case for a further 8 mins until cooked. Allow the tart case to cool before removing it from the tart ring.
Melt the chocolate in a glass bowl over hot water. In a separate pan, bring the cream and butter to the boil, then pour over the chocolate. Slowly fold the two together and then blend with a stick blender to ensure it is velvety smooth.
Once the mixture reaches around 35°C, pour into the cooked tart case and allow to set at room temperature for a couple of hours. (Top tip: don't put the tart in the fridge.)
Place the cocoa powder, water, sugar and cream into a pan and bring to the boil. Add the gelatine and whisk until dissolved, pass through a fine sieve. Cool down to 35°C in an ice bath.
Pour a very thin layer of the glaze on top of the set milk chocolate tart and allow to set before serving.
Dorchestercollection.com