A Cut Above the Rest
Posted on Saturday, March 15th, 2014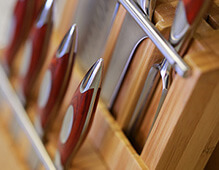 If you have seen us at any shows recently, you may have come across us showing off our new knife range.
After consulting with more than 100 professional chef's worldwide, our design team has created the most balanced, ergonomic and beautiful knife ever seen, well we're inclined to think so anyway.
So without further ado, we are proud to introduce our newest line of premium cutlery, Rhineland.
FOR THOSE WHO APPRECIATE QUALITY
Filed under: Knife Quality, News
Tagged with: ERGONOMIC HANDLE, F&F, FLINT & FLAME, GERMAN STEEL, HIGH QUALITY BLADE, NEW KNIFE RANGE, PREMIUM CUTLERY, QUALITY, RAZOR SHARP, RHINELAND