Monolith Grills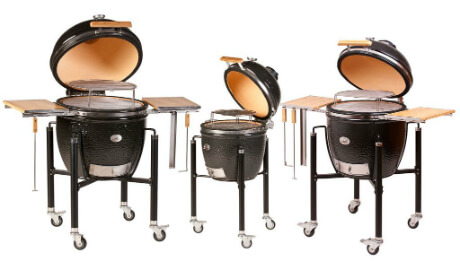 For over 4000 years ceramic grills have been used to cook, grill and smoke in India, China and Japan. After the Second World War the ceramic grill evolved from Japanese cookers known as Mushikamados into the modern Kamado.
Monolith took this one step further and developed their very own version of the Kamado grill.
This ceramic grill delivers on all its promises – grilling, smoking, baking, cooking, barbecuing or roasting. It brings together the best of the world's grilling techniques. Combining BBQ grill with pizza oven and tandoori oven, it is an outdoor cooking appliance capable of tackling every world cuisine.
The Monolith range combines German design, efficiency and attention to detail with ceramics that we are proud to say are made in China using ancient and traditional techniques and materials.
Key Features
Cast iron extract cap; easily control the MONOLITH temperature and air flow
Thermometer; displays in °C and °F as well as a guide for searing, smoking and roasting settings
Practical, sturdy and solid bamboo side tables; easy to clean and no gaps so things don't fall through, complete with utensil hooks
Unique smokEASY wood chip feed system; never lose temperature or smoke by lifting the lid to add additional smoke chips while cooking
Utensils; smoke chip feeder slide and ash hooks hang from handy hooks on the bamboo side tables
Ceramic shell; made with high temperature resistant materials using tried and tested ancient and traditional techniques. Oriental ceramics have stood the test of time for centuries
Stainless steel ash collector; clean your MONOLITH with ease using the ash hook included
Mobile stand; made from heavy duty materials and complete with lockable wheels for mobility and safety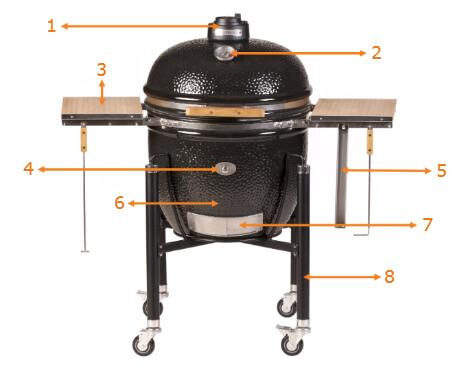 Grilling Methods
Direct Grilling
With this method the grill rack is placed on the fire ring over the hot coals. The food must be turned in order to be grilled from both sides. This set up gives a more traditional BBQ experience.
Indirect Grilling
The deflector stone is placed on the fire ring over the hot coals, protecting the food from the direct heat. The grill rack is raised with the distance piece. With indirect grilling you can cook large pieces of meat, whole fish and poultry gently on low temperatures.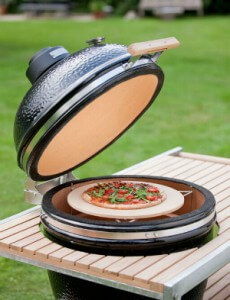 Pizza Stone
The pizza stone is raised with the distance piece and the Monolith is preheated to 300°C – 350°C. Authentic Italian stone baked pizza cooked over charcoal and even traditional breads are easily achieved with this set up.
Smoking
Different options exist for smoking food – smoking with wood, wood chips or wood flour. After heating the grill up, close the air regulator, thus minimising the intake of air. By adding different kinds of seasoning or spices destined for smoked food, you can change the flavour of your meal as you wish.