WELCOME TO THE FLINT AND FLAME COOKING ACADEMY
IN A COUNTRY THAT HAS ITS FAIR SHARE OF COOKING SCHOOLS, HOW DO YOU STAND OUT?
Top chefs don't just cook, they create, and every master creator needs the best tools available to deliver the finest possible results.
Professional chefs love our knives and even Monica Galetti is an advocate, so they must be good!
What is the Flint and Flame Cooking Academy?
The Academy was set up to provide trainee chefs with the best tools to learn with, and to offer cooking schools across the country the chance to acquire and use a top-quality range of knives – whatever their financial position.
As an official member of the Flint and Flame Cooking Academy, you can purchase our incredible knives at virtually cost price for your trainee chefs to use as they learn.
Your students are not the only ones to benefit from this amazing opportunity though, as your school will also receive…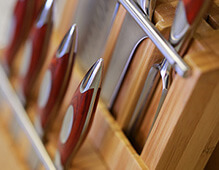 Association with a premium brand
Enhanced reputation
Savings on stock purchase costs
…and best of all…
Exposure long after your chefs have completed their training!
When your students fall in love with their knives (which we are sure they will) they can purchase them for their own use.
These quality knives will last a lifetime and will find themselves in homes and kitchens across the country proudly displaying the name of your school. Our bespoke etching system allows you to etch any name, message or logo you would like on to your knives, so the branding possibilities available to you are endless.
Financial benefits to your school – No obligation. Zero risk. Increased credibility.
There are two ways to purchase your knives, meaning that cooking schools of all sizes can benefit from membership of the Flint and Flame Cooking Academy.
Option 1. Stock and display your own branded knives
Wholesale prices
Mark up by 100% and YOU keep the profits
Trainee chefs can purchase the exact knife they train with
Your branding is on show at all times
Option 2. Pass on your orders as you get them
Zero risk
Only buy the knives as you need them
Make 20% on all knives sold
No admin – we take care of the delivery
How to become a member
Membership to the Flint and Flame cooking academy is ABSOLUTELY FREE. To join, all you need to do is give us a call on 01403 740 230 for further details or to confirm your membership. You can also email us.
Along with any knives you order to use or stock at your cooking school, you will also receive our bespoke Flint and Flame Cooking Academy logo, which can be displayed on your website to let potential trainees know that you are an official member and that by selecting your school, they will have access to the best tools available to them.