Working for Flint & Flame
Due to rapid expansion, Flint & Flame are looking to recruit enthusiastic sales executives and distributors across the UK, promoting our exclusive range of beautiful chef / kitchen knives, as endorsed by TV and celebrity chefs alike.
This is a fantastic opportunity for people with a positive outlook and a desire to succeed.
As part of a growing team, you will attend regular sales meetings at our head office in Sussex and receive ongoing support and training.
No investment is required, just your great personality and dedication. This is a self-employed position and you will be working on a very competitive commission basis.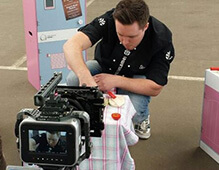 Following a campaign in the national newspaper The Daily Mail, Flint & Flame are delighted to have been inundated with high calibre potential distributors, these applicants will be invited to attend one of our regional induction days in which the business model will be fully explained.
Apply to attend one of our regional induction days near you to find out what all the fuss is about and see if our great story could become your great story too.
To find out more about opportunities with Flint & Flame email info@flintandflame.co.uk or call 01403 740 230.