Flint & Flame Cookware
YOU LOVE OUR KNIVES, NOW DISCOVER WHAT OUR AMAZING COOKWARE CAN DO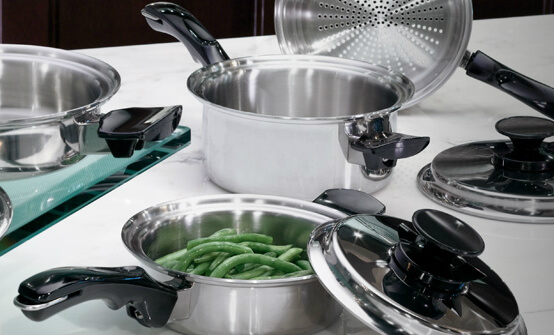 The cookware Flint and Flame bring you is from a manufacturer that has been in business since 1874.
They are one of the oldest cookware manufactures in the United States. The first product they ever made was enamel-coated cast iron and it was a big hit because it was much easier to clean than regular cast iron.
In the 1930's they were the first company to make stainless steel cookware, and about 50 years ago they were the first company to develop 'waterless cookware'.
The cookware was originally meant to be sold in shops, the problem was it was such high quality it had to be demonstrated for people to understand it and appreciate it.
COOKING WITH VITAL NUTRITION SAVES YOU TIME, MONEY AND HEALTH
The 7-ply aluminium core construction gives you very fast and even heat distribution, so you never have to stir your food.
And the whistle eliminates 'pan watching'. You don't have to sit there and poke and prod it, and hang out over the stove, so you are released from kitchen captivity.
On average your food cooks 30% faster, and from an energy saving standpoint you are cooking on medium and low heat.
Your biggest savings, though, are on replacement costs. Everything has a lifetime warranty, so you never have to replace it.
WITH VITAL NUTRITION YOU WILL NEVER HAVE TO BUY ANOTHER PAN AS LONG AS YOU LIVE!
Over your lifetime the average family will prepare over 27 thousand meals, spend over 15 thousand hours in the kitchen and manage a quarter million pound food budget.
Now what are your tools to be able to do this massive job?
Would you agree with the statement that good tools make your job a little easier?
That is what Vital Nutrition does, it allows you to cook your food faster, it makes it taste better and it is the healthiest way for you to cook your food.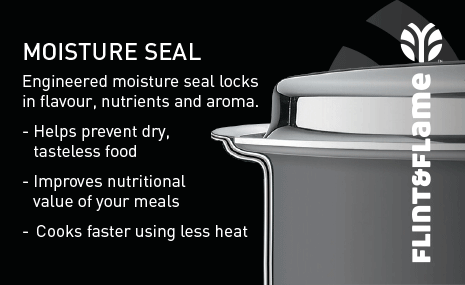 You want to cook all your vegetables at a very low temperature (below boiling) so as to retain the vitamins and minerals.
So what Vital Nutrition have done is construct the cookware to enable you to eliminate oil, water and high heat from your cooking.
HERE IS HOW THEY HAVE DONE IT
Each piece of cookware is constructed from 7 layers of metal.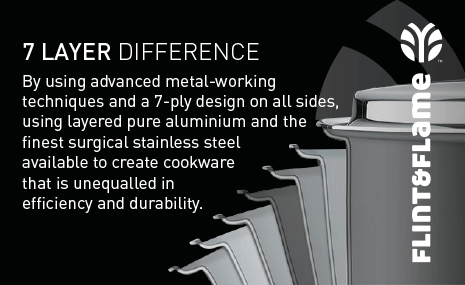 The core is 3 layers of aluminium, which is a very good conductor of heat. This enables the heat to go all the way around so that the pan is the same temperature bottom, sides and top.
Then there is a layer of ferritic stainless steel. Ferris is iron, and what iron does is conduct heat evenly whilst retaining heat for a long time.
The outside and the inside (where the food touches) is manufactured from 304 surgical stainless steel with titanium. This is the same steel that doctor's use inside your body for pins and screws.
The reason they use it inside your body is the same reason we use it inside the cookware – because it is non-porous, it is non-chemically reactive and nothing is going to leach out into the food.
The handles are ergonomically designed so that they transfer the weight from you wrist to your forearm.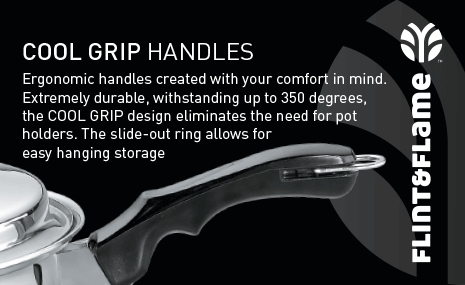 They can withstand temperatures of up to 350 degrees so you can put them in your oven.
They don't transfer heat so you can pick them up off the stove without wearing an oven mitt.
The knobs are oversize and tall, so you won't touch hot metal when picking up the lids.
All the lids are self-nesting so they stack and store nicely. You can also hang the pans with the lids inside.
The lids can also be used as a trivet, so you can serve up the food right out of the pan.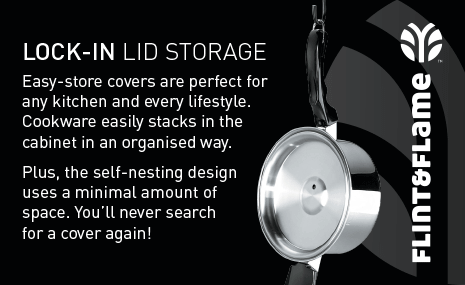 Dripless pouring – if you are pouring liquid out it has a nice steady stream instead of dripping down your arm.
Everything can be put through the dishwasher, including the electric skillet. And everything has a lifetime warranty on it.
THE SECRET TO THE SYSTEM IS THE WHISTLE
The whistle is designed to become audible at precisely 187 degrees.
This is the perfect temperature to tenderize your vegetables without destroying the vitamins and minerals.
So all you have to do is start on medium-to-medium high heat, wait for the whistle and turn it off or low.
Then what happens is that it creates a vacuum. This pulls the heat back into the pan.
The result is that the food cooks evenly, faster, with less energy and the vegetables tenderize in their own natural juices.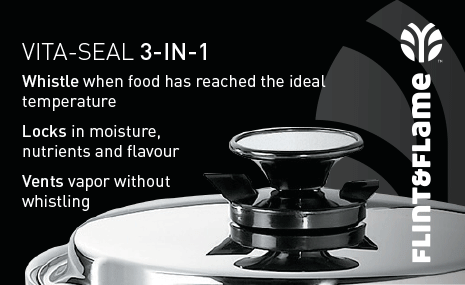 So you are not washing the vitamins away with water and you're not killing them with high heat.
So 98% of the Vital Nutrition is saved.