Mi-Cuit Norwegian Fjord Trout with Fresh Grape Sauce Vierge, Caramelised Chicory Leaves & Fresh Dill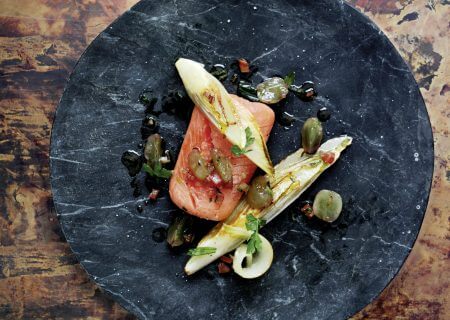 I really love this dish and always enjoyed serving it in the restaurant. To me, it's the perfect way to showcase Fjord Trout, with a sharp flavoursome sauce vierge mixed with fresh grapes and partnered with sweet but delightfully bitter caramelised chicory
Ingredients
4 x140g Norwegian fjord pave, skin off

Olive oil
Sea salt and freshly ground black pepper
1 large chicory lettuce
40g butter
2tsp honey
Sauce vierge (makes 150 ml)
4 large tbsp extra virgin olive oil
1 shallot, chopped
Half a tomato, deseeded and diced
150g white seedless grapes, skinned and halved
1 tbsp good balsamic vinegar
Juice of half a lemon
Micro tarragon, or fresh tarragon
Method
To make the sauce vierge, pour the olive oil into a small saucepan and briefly warm over a low heat for about 30 seconds, add the shallot and cook for 2 minutes, remove from the heat and stir in the tomato and grapes, gently so not to damage. Add the vinegar and lemon juice and just before serving, stir through tarragon to taste.
For the Fjord Trout, heat a pan of water to about 60oC. Meanwhile, wrap the fish in cling film and tie up both ends.
Poach for 6/7 minutes at a constant heat then remove from the pan.
Caramelise the chicory leaves in butter and honey and keep warm.
Carefully cut open one side of the cling film to release the Fjord Trout onto kitchen towel. Pat dry then pan fry using a non-stick pan for 2-3 minutes until golden brown, keeping the flesh nice and pink in the middle.
To serve, simply position the Fjord Trout in the middle of the dish, top with caramelised chicory and drizzle over plenty of the grape sauce vierge.
Ambassador Daniel Galmiche's Tip
'There are a few things here to remember. First keep water temperature constant, this is crucial when cooking fish. Next, don't overheat the sauce vierge – it should just be warm so you do not overcook the ingredients and instead retain the flavours. Finally, the chicory should be golden brown, any darker and it will taste too bitter.'