FLINT & FLAME SUPPER CLUB
CLAIM YOUR FREE, NO OBLIGATION FLINT & FLAME SUPPER CLUB EXPERIENCE WITH YOUR VERY OWN CHEF!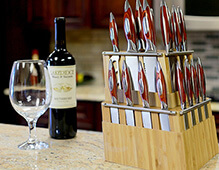 Congratulations on your purchase, now, let us cook for you and teach you how to use a knife with this exclusive offer.
Learn how to use a knife safely like a professional in the comfort of your own home. Allow one of our 'real' chefs to guide you step by step through the basics of knife handling skills, and in no time you will be chopping, slicing, dicing and julienning like a pro.
Existing Flint and Flame customers enjoy huge discounts on these events. £45 secures a party in your home where everyone leaves with a FREE gift from Flint and Flame and the host gets a special etched knife valued at £100 just for letting us come and entertain you.
Rolling this idea out even further, we were approached by a premium kitchen retailer desperate to host an evening in their showroom.
We quickly agreed as it's the perfect combination; kitchens, kitchen knives and foodies all together in one place.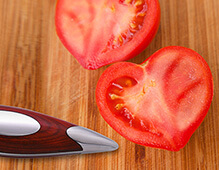 Look out for the specially organised events in selected high street locations. This will be a limited availability invitation or pre-registered event. Any one of the valued customers on our database can attend an event conveniently near them.
So buying a knife from Flint and Flame is so much more than a commercial transaction, it opens the door to so much more.
You can contact us to arrange your Supper Club event by calling us on 01403 740 230, by email at info@flintandflame.co.uk or by using the form on our Contact page.
We look forward to hearing from you. Let us raise your culinary expectations…
The Small Print
This offer is only available to customers with a qualifying purchase.
Parties must be booked and hosted within 3 months of purchase and for a minimum of 6 guests.
Your personal chef will entertain you with a demonstration of the new Flint & Flame cookware and famous knife range as they prepare your menu.
There is NO obligation to purchase. Our chef will not engage in any high pressure sales techniques during the event.
Your feedback on the evening will be welcomed both during and after the event.
The Supper Club experience will last approximately 2 hours.
The menu will be set in advance and confirmed to you prior to the event. *vegetarian option also available.
Drinks will not be provided with the menu.
It is the hosts' responsibility to advise Flint & Flame in advance of any special dietary requirements or allergies for any of the guests.
Subject to availability of chef.